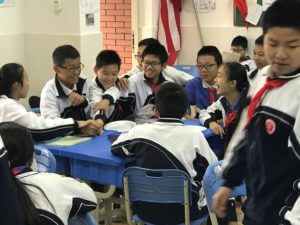 World's Longest Pizza Pickup and Delivery
Jason McDonald is the assistant principal of Fuyong Middle School, Grade 7, Class 15, (Shenzhen, Guangdong, China), with a team of organizers: Dave King, Jeanette Miller, Mark Morrison,Frank Marzella, and Ping Huai Lin, they taught English to students of Grade 7, Class 15 and also they made an Official World Record. The lesson was to order a Pizza from the USA. They then had students call a pizzeria in Hudson (Marzella's Pizzaria), Florida USA and have a skype call with them to order the pizza. The pizza order was made in english and the pizzas were made. Then, Jason McDonald flew from China to the USA and then drove to pick up the pizza. The pizza place is located at: 13800 Little Rd. Hudson, FL 3466.
// Do something...
Then he drove back to the airport, flew from USA to Hong Kong, then drove from Hong Kong to Mainland China to deliver the pizza. He covered 18,650 miles Between December 12th to December 14th 2016 for the pizzas, for the language, and for a world record!. The students from Grade 7, class 15 took part in this amazing world record in order to learn English.
// Do something...