The Most Total Knee Replacements performed with Minimal Invasive Surgery
WORLD RECORD CHALLENGE
On march, 26, Official World Record judge, David V moved from Europe to Seoul, Korea to give the Official World Record Certificate to Segyero Hospital for:The Most Total Knee Replacements (TKR) performed with Minimal Invasive Surgery (MIS).To help the prompt recovery of patients by reducing their pain and bleeding after thesurgery, Dr. Jae Hoon Chung, the director of Segyero Hospital, performed as many as 3,220 cases of 7-9 cm minimal invasive artificial knee joint surgery from May 1, 2005, to January 31, 2016, recording the world's highest number of surgeries for the given period, and, in particular, from January 1 to December 31, 2014, he also performed 626 cases of MIS (Minimal Invasive Surgeries).
// Do something...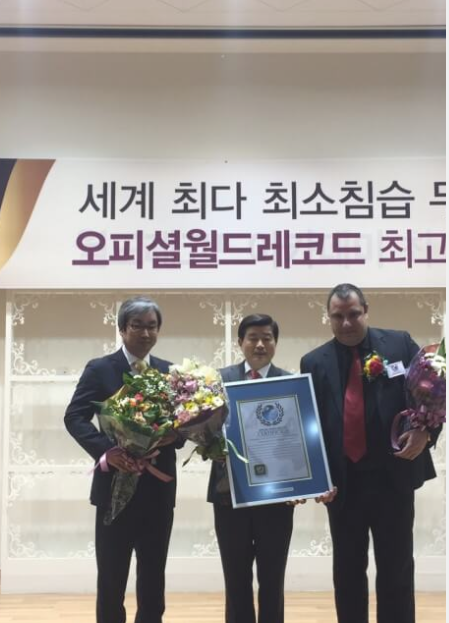 SEGYERO HOSPITAL
This was a collaboration between Korea Record Institute and Official World Record.OWR judge, first of all went to Segyero Hospital in Gwangju Metropolitan City. The judge participated and observed an MIS surgery, by Dr. Jae Hoon Chung.After the surgery, Dr. Jae Hoon Chung and judge David V. examined all the data concerning the World Record to verify the certificate. Later, a very special ceremony was made in the banquet hall of Hotel Mudeung Park in Gwangju Metropolitan City, to give the OWR certificate, and all the documentation that validates the whole process. An ex minister of the government, and some congressmen were at the ceremony, with local politicians, university and medical representants.Also a lot of workers at Segyero Hospital, that made possible this amazing world record by Dr. Jae Hoon Chung, were at the ceremony. The responsibles of Korea Record Institute were also with the OWR judge that made a speech congratulating the good job of Dr. Jae Hoon and his team, and KRI.Dr. Jae Hoon, also made a speech, deeply proud of the good job for the patients and for his team. All the people remarked the effort of Dr. Jae Hoon Chung to reduce the pain after the surgery and his skills for this kind of surgery. That was an important day for Segyero Hospital, and for the medic profession in Korea and the whole world.2005–10, 2006–27, 2009–139, 2010–242, 2011–306, 2012–466, 2013–617, 2014–626, 2015–707, 2016–80,
// Do something...
PRESS
Here it is a link to local press that show the news about the new world record.
// Do something...