The largest mural made of useless writing instrument material.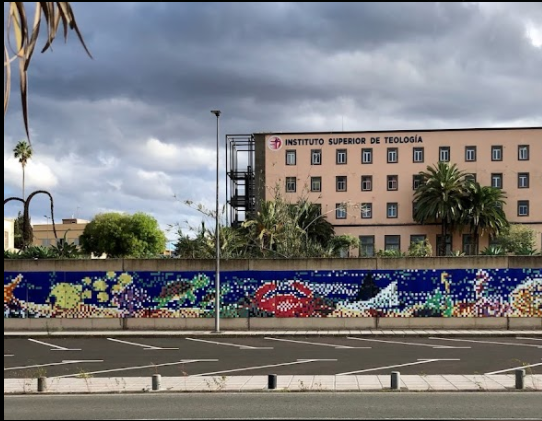 On November 6, 2020, the University of Las Palmas de Gran Canaria mounted the largest mural in the world made of useless writing instrument material.
Along the wall of the parking lot of the School of Engineering in Telecommunications and Electronics, on the University Campus of Tafira, this mural extends 39.55 meters long by 1.83 meters high in which colorful fish can be distinguished, crabs and seahorses on a navy blue background.
The mural is the result of the work of university students, it has 12,480 pieces that, like a puzzle, make up a pixelated image that plays with the visual acuity of the observer, who must be located about 20 meters away to be able to distinguish each one of them. the figures on the mural. In addition, it carries an intrinsic message, in order to have a seabed like the one in the image, you have to minimize the amount of waste and properly manage it.
// Do something...
The mural is part of the activities scheduled for the Pixel ART workshop, framed within the Uni PlaNet Project, a commitment of the ULPGC Sustainability Area and supported by the Government of the Canary Islands, which has managed to open a door to collective reflection on the near future of the islands.
The event was accompanied by the presence of the Technological Institute of the Canary Islands and its mobile laboratory, with which attendees had the opportunity to learn about the process of transformation of plastic waste into new objects by the injection method, this being the same technique used in the manufacture of the pixels of the mural.
// Do something...
Although you can see how laborious the assembly is, the real work is precisely behind each of the pieces that make up this mural.
// Do something...
The design of the pieces and the transformation of the material is the work of Eyser Hidráulica, a local company on the island of Gran Canaria with a proven track record in initiatives based on circularity, sustainability and responsible innovation.
// Do something...
For the certification with OWR, they have had a whole cast of scouts who have been present at all times to certify the veracity of the facts, while the responsibility of the on-site verification of the measurements of the mural fell on Mr. José Miguel Doña , Professor of the University of the Department of Chemistry and Vice-rector of Coordination and Institutional Projects of the ULPGC, Mr. Carlos Javier Gómez, Head of section of the Department of Metrology Services of the Technological Institute of the Canary Islands and Ms. Mª Begoña Santana, Police Agent Local of the municipality of Santa Brígida.
// Do something...